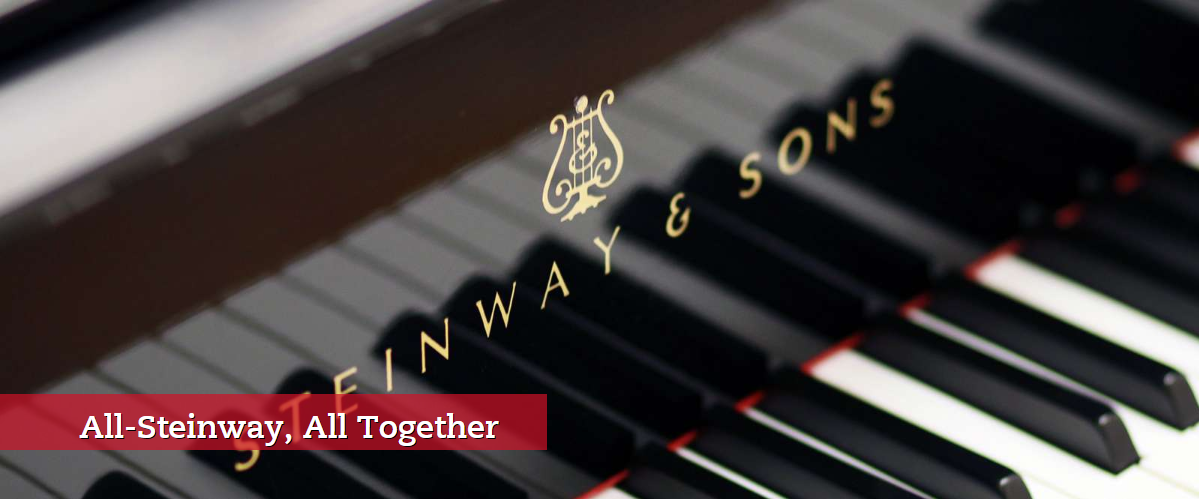 A Campaign for Musical Excellence at Keene State College
All Steinway, All Together aims to advance excellence in music education and scholarship at Keene State College by providing the finest instruments for student use in lessons, practice and performances. The initiative recognizes Keene State's status as the only public liberal arts college in northern New England accredited by the National Association of Schools of Music, putting the quality of music education at the College on par with that of elite music conservatories.
Please join the initiative to make Keene State an "All-Steinway School!"
Keene State College is dedicated to excellence and preparing our students for success. The College is making progress on an important program to deliver on these commitments.
To help students, the College is taking steps to become an All-Steinway School through the All-Steinway, All Together Initiative. The program is providing students with new, high-quality pianos to help them reach their fullest potential as future artists, teachers, and performers. To become an All-Steinway School, Keene State is investing in the quality and durability of the finest instruments to support our renowned faculty, dedicated students, and unwavering commitment to access to excellence in higher education as a public institution in New Hampshire.
In September of 2018, Keene State accepted 18 Steinway pianos on loan through Steinway's Festival Placement Program. These pianos spent the summer in service to major music festivals, including Tanglewood, Berkshire Choral Festival, and Bowdoin prior to landing at Keene State. The pianos were part of rehearsals and performances on campus, until being returned to their homes in May 2019. Through the generosity of supporters, Keene State then purchased one Steinway Model A Grand Piano and three Steinway-designed Boston upright pianos to remain on campus.
In August 2019, the College again "borrowed" festival pianos – 14 this time – committing to more purchases in June 2020. The process will repeat until 2022, at which point Keene State will have replaced the entire inventory. Join us in the effort to support Keene State students and the community!
"Playing the piano is a big part of my life, and my learning. The All-Steinway Program provides me with the opportunity to create my best work because I have access to high-quality instruments. When I am practicing and performing, I can focus on my work because the instruments help me continue to improve and learn. I am getting the most from my educational experience at Keene State through this program. "

– Kirsten Becker, Keene State College Music Student
Your support will directly help our students now and in the future with new equipment for learning. In addition, your gift will support the performance quality offered by the Redfern Arts Center as the pianos will be used during public events as well.
Please join us in ensuring that we meet these goals. Support our students and the performing arts through this unique program with a gift today!
"As someone who will continue to learn and teach music over a lifetime, it's important to have access to quality instruments now. Learning on Steinway pianos at Keene State is helping me to improve my own skills, which I will offer to others throughout my career."
– Geoff Edwards '19, cellist and piano player