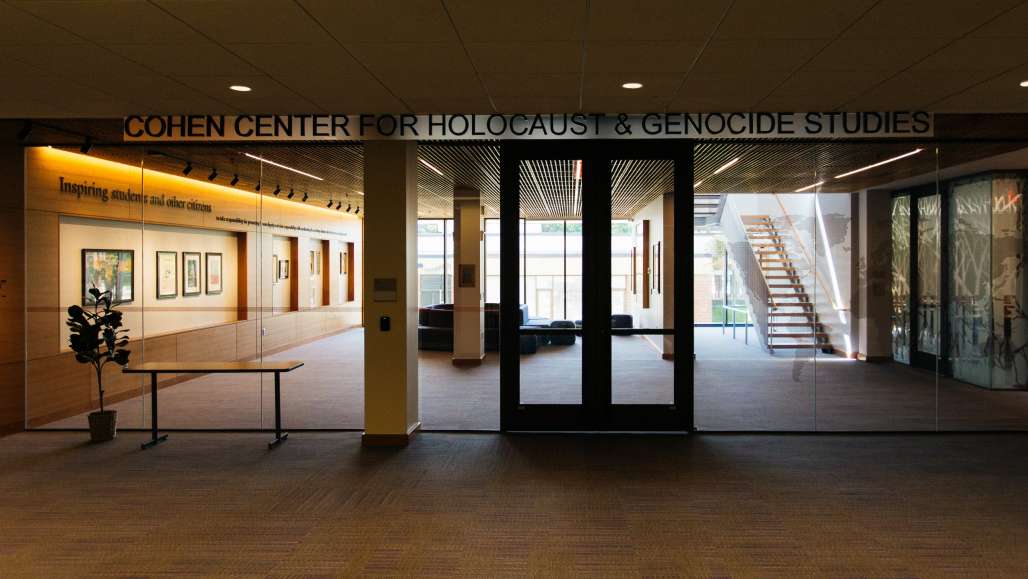 "To Remember...and to Teach"
In January of 1983, Professor Charles Hildebrandt opened the Holocaust Resource Center at Keene State College with a collection of just over 200 books. Over the years, the Center has undergone a number of name changes and has developed into one of the leading Holocaust education centers in the country with a library of nearly 6,000 volumes, which helps support the College's academic program in Holocaust and Genocide Studies.
The program, the only four-year BA degree in the United States, combines historical background with an interdisciplinary exploration of both the Holocaust and other genocidal events through film, literature, philosophy, psychology, sociology, religious studies, women's studies, and other offerings. The HGS program examines human behavior and is based on the premise that every aspect of our civilization, including higher education, has been affected by the Holocaust. The Center has attracted internationally renowned scholars, many of whom have designed features of the course of study used at Keene State College. The academic backgrounds of our faculty attest to the breadth and diversity of this field. From historians to clergy, from filmmakers to social activists, our diverse educators approach the most horrible events in human history with passion and compassion, skill and wisdom.
Today
On April 6, 2019, Keene State College marked the opening of an addition to the Mason Library that provides a work space for the Cohen Center for Holocaust and Genocide Studies and its academic degree program. The additional space houses classroom, conference, office, and storage space for growing collections of documents and artifacts. The addition is a gift from Rick and Jan Cohen of Keene, longtime supporters of the Cohen Center and the Holocaust and Genocide Studies baccalaureate program.
Show Your Support with a Donation
Give by Phone
Call Advancement Services, Monday through Friday, 8 a.m. – 5 p.m., at 603-358-2375.
Give by Mail
Mail your check made payable to Keene State College to:
Keene State College – Advancement Services
229 Main Street
Keene, NH 03435-2701
We Want to Hear From You!
Robyn Amadon
Executive Assistant
603-358-2016